Questo mese Google ha deciso di rilasciare qualche novità in relazione ai suoi principali strumenti di digital marketing.
Oltre a Google Analytics e Google Tag Manager, da pochi giorni Big G annovera tra i suoi servizi anche Google Survey – che non è Google form!
Google Survey
Formalmente è il rebranding di Google Consumer Survey e rispetto alle survey tradizionali, come SurveyMonkey e Qualaroo per intenderci, Google Survey permette di selezionare, già in fase iniziale, la tipologia di target a cui il nostro questionario sarà sottoposto e la base utenti è formata da "10M+ online respondents".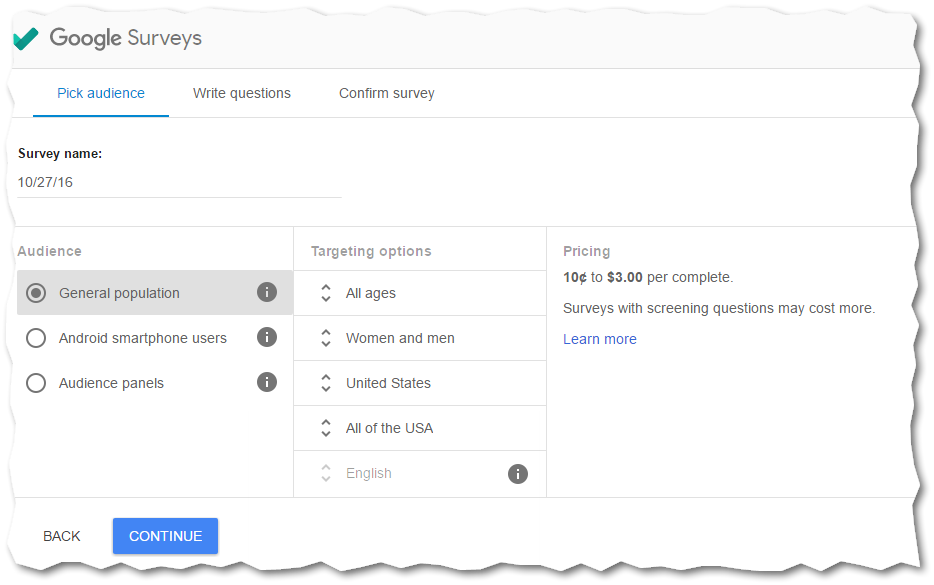 Schermata iniziale di scelta target utenti a cui sottoporre il questionario
Come ogni questionario che si rispetti, vi permette di scegliere la tipologia di domanda da sottoporre agli intervistati:
Scelta Singola
Scelta Multipla
Rating Scale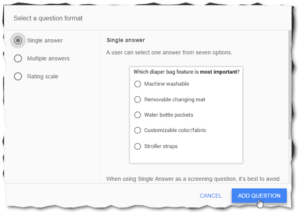 E' presenta anche lo skip logic, denominato "screen question" e la randomizzazione delle risposte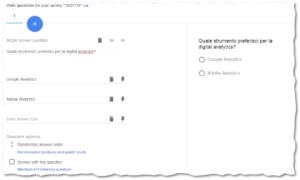 Prima di pubblicarla online, Google vi permette di:
Calcolare il costo totale da pagare per il completamento della survey in base agli utenti
Visualizzare una preview della survey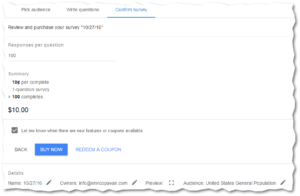 Ovviamente esiste anche la versione Google Survey 360 che fa parte del pacchetto dedicato alla suite 360 e che si integra agevolmente con Analytics 360.
La principale differenza tra Google Survey e Google Survey 360 è spiegata molto bene dal product lead Dylan Lorimer durante un'intervista:
Q: How does Google Surveys differ from Google Surveys 360?
Lorimer: Google Surveys 360 is our enterprise research product; it's a fully-supported research tool that is integrated into the Google Analytics 360 Suite. Users get advanced audience targeting, dedicated support and consolidated billing, all of which make it easy for big organizations to use. Google Surveys has fewer advanced targeting features, but it's a pay-as-you-go product so that anyone can use it. Google Surveys is currently available in U.S., Canada, United Kingdom, Germany, Mexico, Japan, Australia, Brazil, France, Spain, Italy, and the Netherlands. Google Surveys 360 is available in U.S. and Canada.
Se volete provare Google Survey, utilizzate questo link.
Novità Google Analytics
Anche in questi ultimi giorni di ottobre, gli sviluppatori di Google Analytics non stanno fermi e anzi apportano due novità all'interno della UI del software.
Tra le tante, le più interessanti sono sicuramente:
La scomparsa dei report:

Eventi Intelligenti: saranno rimpiazzati dagli insight automatici di Google Analytics Assistant, già presenti nel mobile
In-page Analytics: report completamente rimosso dall'interfaccia. Se volte continuare ad utilizzarlo potete/dovete fare affidamento all'estensione ufficiale per Chrome
Vista di accesso legata al precedente login: quando farete accesso a Google Analytics la prima vista di atterraggio sarà l'ultima che avete visto precedentemente
Data range di default programmabile: sarà possibile decidere il range temporale con cui la vista si caricherà in automatico. Di default sarà settata su 7 giorni
Customization Section: i report Dashboard, Shortcut, Custom Report e Custom Alerts saranno spostati sotto una nuova voce del menu di sinistra che prenderà il nome di Customization.
Novità Google Tag Manager
Google Tag Manager supporterà le pagine AMP!

Per poter utilizzare GTM a supporto delle pagine AMP è necessario:
Creare un nuovo container per il sito AMP
Inserire il tag GTM nel sito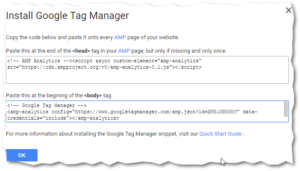 Creare i vari tag
Pubblicarli
A supporto di questa nuova feature ci sono anche nuovi trigger disponibili: Scroll e Visibility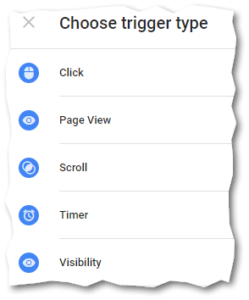 E, grande novità, tra i tag vendor spuntano i competitor Adobe Analytics e WebTrekk

Un altro passo in avanti per portare il sistema di tagging a livello enterprise e competere con altri software come Tealium e Tag Commander.
Spero che Adobe Analytics e WebTrekk vengano supportati anche nella versione web di GTM, in modo da bypassare il sistema Adobe DTM e rendere più facile e veloce il processo di tagging per questi vendor.