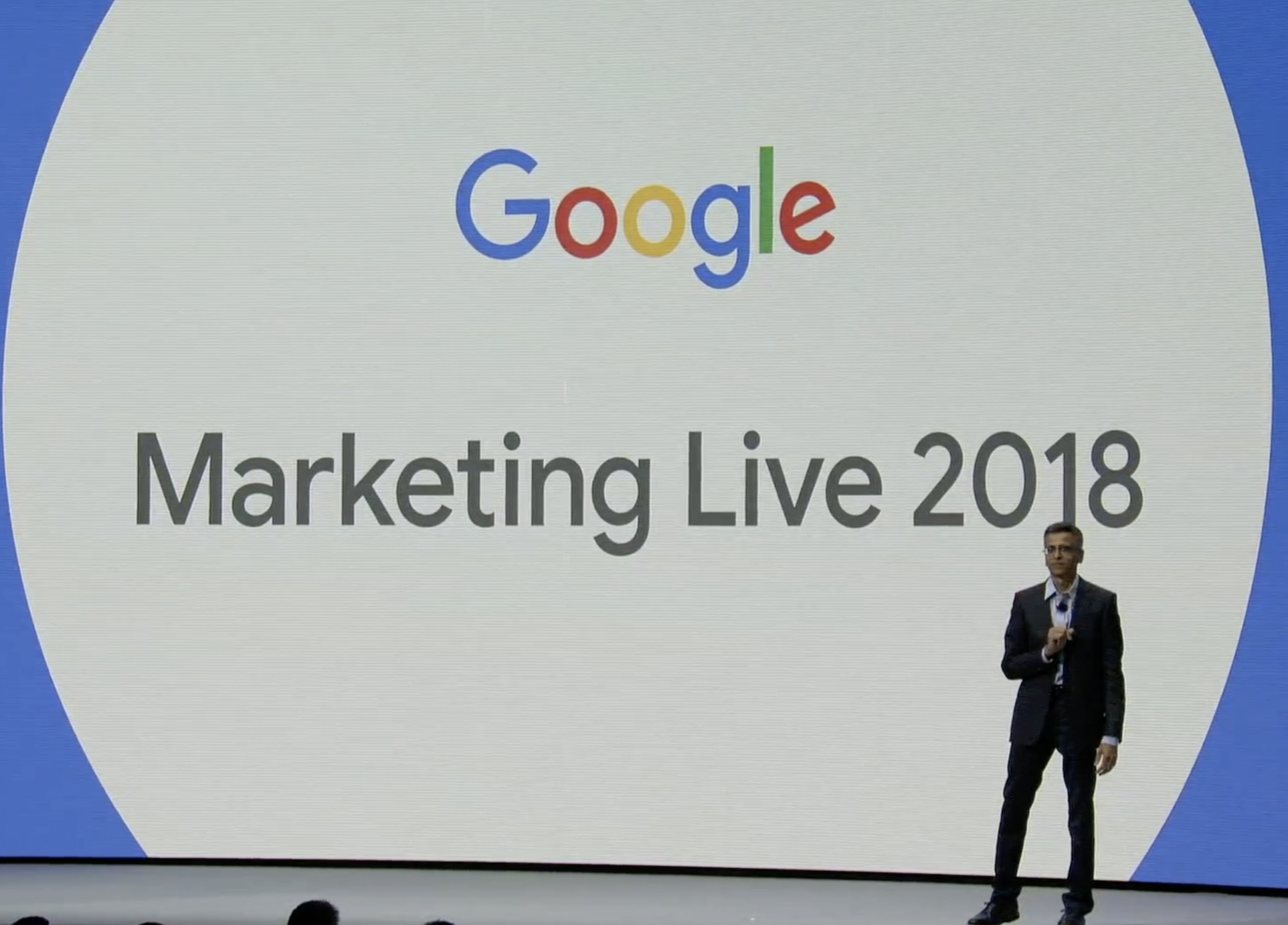 Puntuale come ogni anno, oggi -in verità pochi minuti fa- è stato presentato il Google Marketing Live Keynote 2018. L'evento è dedicato all'advertising -soprattutto- e all'analytics.
Potrei riassumerlo in 4 parole:
Google Ads
Valuable
Transparent
Trustworthy

Andiamo con ordine.
Il focus principale era ovviamente sul cambio di brand da Google AdWords a Google Ads e cosa comporta, in termini pratici, questo rebranding.
Da Google AdWords a Google Ads
Ad aprire Srindhar Ramaswamy, senior vice president di Ads che introduce alcune statistiche molto interessanti. Nell'ultimo anno sono aumentate in modo esponenziale le ricerche mobile per:
near me searches
what to do tonight in …
Srindhar associa a queste ricerche il concetto che gli Ads devono essere ovviamente utili per gli utenti e bisogna passare da ads for search ad advertising "Assistance that works for every one". L'ads, oltre a soddisfare le richieste dell'utente deve anche "assisterlo" nell'azione che ha espresso in fase di ricerca.
Per questo motivo l'Ads Controller, disponibile per ciascun utente, diventa una parte centrale di ogni account Google: la scelta del target ads con i vari drill down diventa quindi uno strumento "amico" dell'end user, che potrà scegliere cosa vedere ed escludere eventuali tipologie di informazioni.
Google Ads non è però solo rebranding, come dicevamo prima, è anche una nuova piattaforma che prende il nome di Google Marketing Platform e serve a soddisfare i fabbisogni di Media Buying, Analisi e Ottimizzazione.
Video Ads
Dall'overview generica si passa ai Video Ads e anche qui si parte subito con dei dati: il 70% di chi visualizza un video su YouTube genera un successivo acquisto "in store".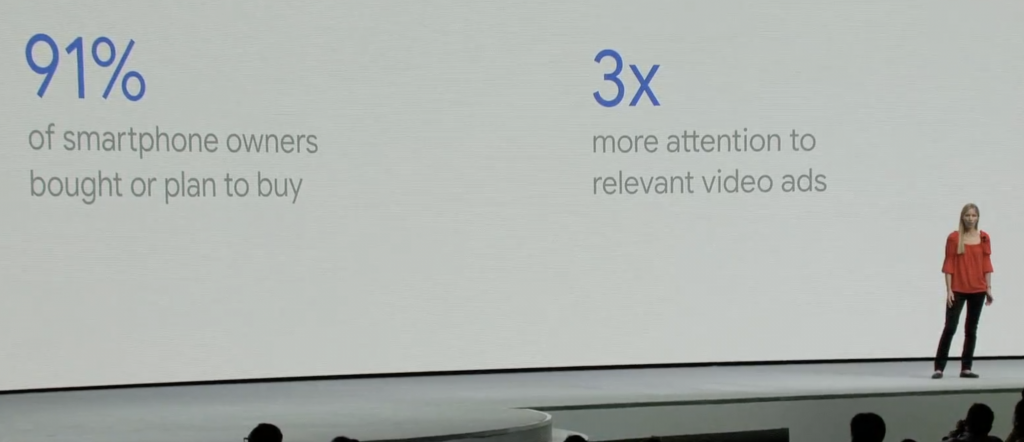 Le novità principali della Video Ads sono:
Trueview for reach
Trueview for action: che incorpora CTA (vedi screenshot sotto)
Maximize lift bidding: ovvero un tool di machine learning dedicato all'ottimizzazione del budget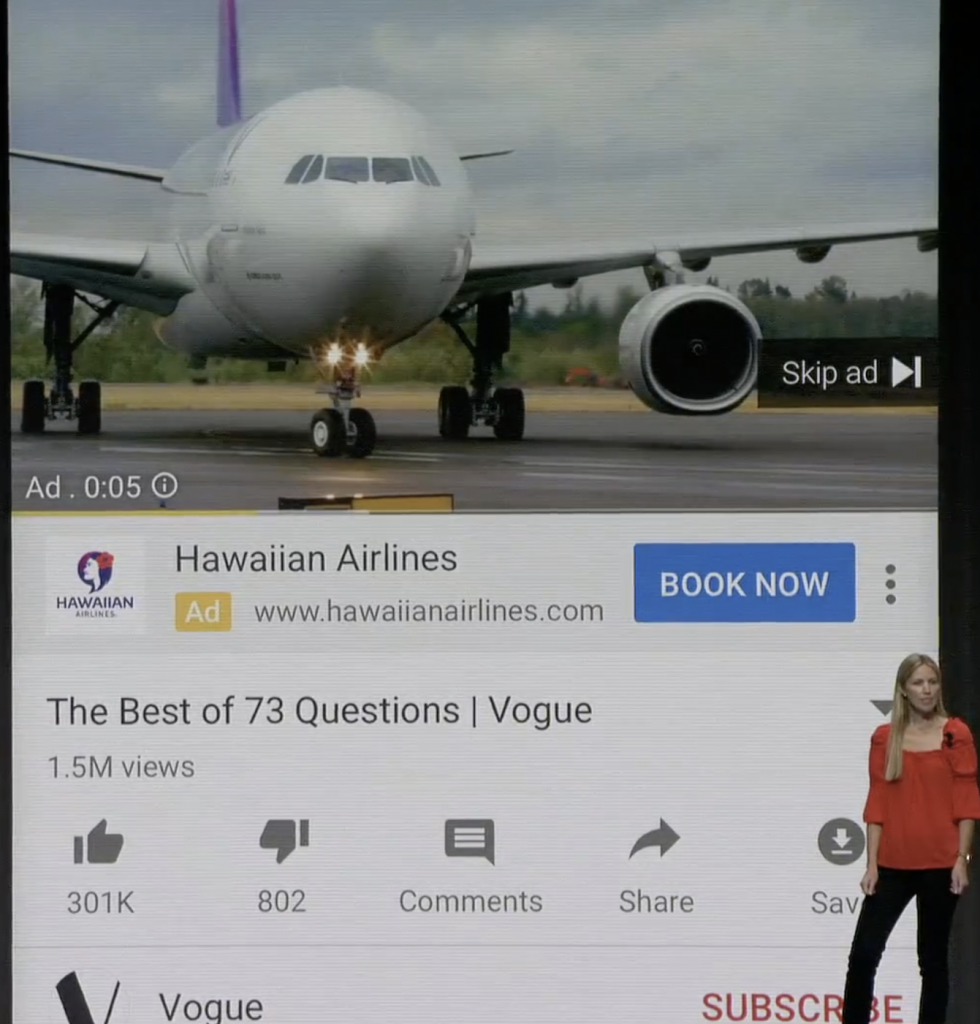 Traditional online advertising
Anthony Chavez introduce subito tre "bombette", di cui una legata al measurement mi sta molto a cuore.
La prima è la Responsive Search Ads. In poche parole si tratta di un Multivariate Test sugli header e description degli Ads; sarà il software a combinare title e description per ottimizzare budget, click e conversions.
Servono 15 headlines e 4 description e l'algoritmo di Google matcherà 3 headlines e 2 description.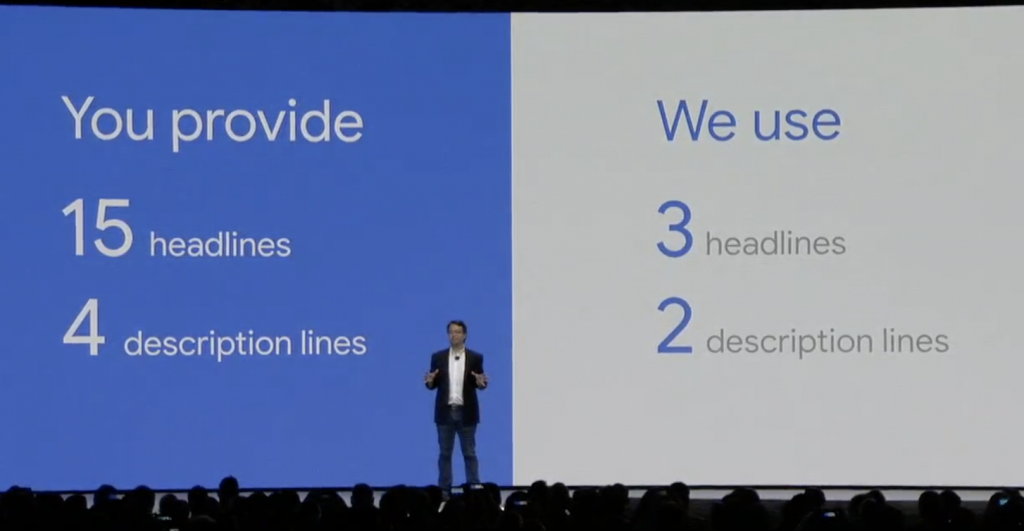 Il rollout è previsto nei prossimi mesi per quanto riguarda gli account in lingua EN e durante il Q4 per tutti gli altri.
La seconda è l'Improve Page Speed Score. In pratica un indicatore con una scala di punteggio da 1 a 10, che si aggiorna giornalmente, basato su più fattori (inclusa la CR o la probabilità di conversione). Questo KPI sarà disponibile da subito nei report Ads e torna molto utile per migliorare lo speed delle pagine mobile. Ovviamente il connubio con AMP diventa perfetto.
La terza, e quella che mi ha maggiormente soddisfatto, è il Cross Device Reporting & Remarketing. In pratica in Google Analytics, se adeguatamente connesso con Ads, sarà rilasciato un report che permette di conoscere la customer journey dei nostri utenti – in modalità aggretata- che visitano più volte il nostro sito. Ovviamente questo permetterà di capire quali device e quali ads sono quelli più performanti, come migliorare l'adv e il journey dei nostri utenti per farli convertire più velocemente. Il rilascio di questo report è previsto oggi!
Small Business
Google non si dimentica delle piccole imprese e per questo ha creato le Smart Campaign che accompagnano le PMI nel percorso di ottimizzazione ads e creazione di una "auto-optimized landing page". In questo modo sarà comunque possibile veicolare traffico verso i piccoli business anche se non hanno un sito web: negli States si conta che circa il 50% dei small business è sprovvisto di un sito.
Targeting Advertising
Philipp McDonnell afferma che l'80% degli utenti smartphone US genera un acquisto entro le 48 ore successive alla visualizzazione di un Ads.
Per targettizzare meglio l'audience sono stati quindi introdotti:
Automated Feed: viene fatto un crawling del sito di riferimento e viene direttamente estratto il feed per le campagne shopping, eliminando o riducendo notevolmente il temp o di realizzazione
SmartShopping Campaigns: si stanno creando delle partnership con le principali piattaforme Ecommerce, ad oggi Shopify, per integrare direttamente i dati shopping nelle piattaforme. In questo modo si diminuiscono errori umani e si riduce il tempo di creazione dei feed.
Local Campaigns: tramite interfaccia drag&drop vengono creati gli annunci in un tempo veramente contenuto e l'algoritmo di machine learning invia gli Ads nei vari canali. Sempre a detta di Philipp questa funzionalità è utile soprattutto per chi genera business offline
Hotel Campaigns: in questo caso non si sono spinti molto sulla descrizione, limitandosi a dire che sarà migliorato ulteriormente l'ads per generare maggiori booking online.
Enterprise Business
Ovviamente non poteva mancare la versione Enterprise, ovvero la Google Marketing Platform che unisce Google Analytics 360, Optimize 360, Google Tag Manager 360, DataStudio 360 e Survey 360 assieme a Search Ads 360 (ex Doubleclick search) e Display e Video 360 (ex DBM).
Viene presentato il nuovo pannello "Integration Center" che permette la connessione rapida tra gli strumenti a disposizione (screenshot sotto).

Sarà presente un Marketplace dedicato alla scelta di dove "far vedere" l'Ads, ovviamente il tutto corredato da statistiche molto interessanti sui singoli "prodotti" a disposizione.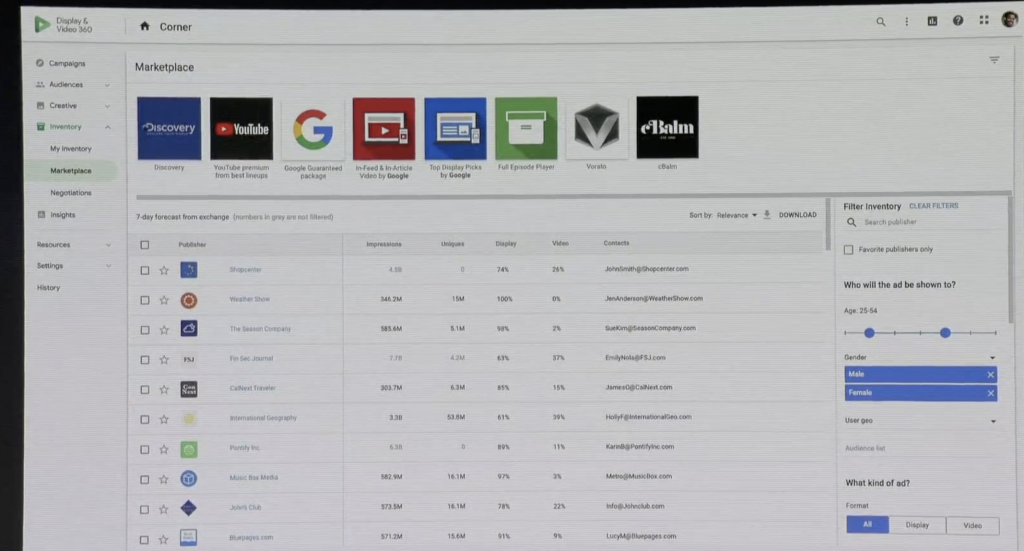 Ovviamente non mancherà la possibilità di creare dei custom report direttamente nell'interfaccia del prodotto, in ottica drag&drop come rilasciato lo scorso mese negli account 360 "Advanced Analysis" (tool potentissimo).
Questi report saranno basati su "speed & semplicity", ovvero si presentano come superveloci in risposta e one click to modify l'ads di interesse nel caso dovessimo fare dei cambiamenti.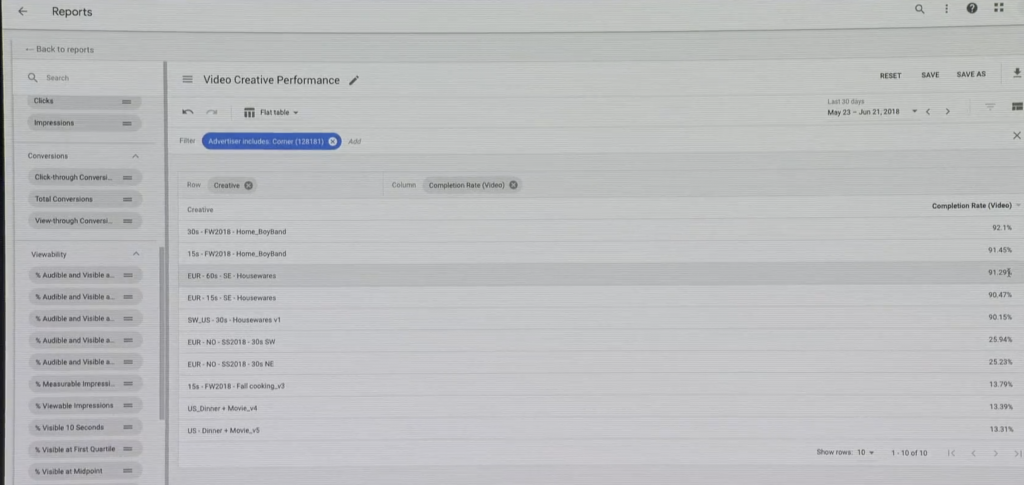 Come ogni anno, tante novità made by Google che saranno rilasciate gradualmente nei vari account durante i prossimi mesi: non vedo già l'ora di provare Cross Device Reporting & Remarketing!
Se volete rivedere l'evento potete farlo a questo link. Rimanete sintonizzati sul canale AdWords Ads nei prossimi giorni perchè saranno rilasciate alcuni video dedicati su questi nuove features.