Web Summit 2015 a Dublino – Day 2
Seconda giornata al Web Summit e tanti, tanti e ancora tanti spunti di analisi, riflessioni e contenuti superlativi.
Di seguito, come ieri, gli argomenti delle conferenze a cui ho presenziato:
Beyond AI: our devices with emotional intelligence ovvero, cosa succede se da un giorno all'altra i nostri devices possono captare e rispondere alle emozioni? Suggestione molto forte, a cui è seguita anche la presentazione del robot emozionale "" (foto a fondo pagina)
From Turing to Modern Data Analysis: breve panoramica di come è cambiato il modo di utilizzare i dati, sia a livello qualitativo sia a livello quantitativo e di come è cambiata la figura del Data Analyzer. Sapersi muovere tra i Big Data per estrarre dati "actionable" è oggi la sfida più importante in ambito decisionale/strategico
Duelling Realities: VR vs AR ovvero, è meglio utilizzare la realtà aumentata o la realtà virtuale? Ovviamente dipende dal contesto, ma ci stiamo spostando verso una dicotomia che prevede l'utilizzo della AR per app "dimostrative" di un prodotto (es. collocazione di un mobile in casa) e l'utilizzo della VR per la vendita in tempo reale del prodotto stesso
The Neuroscience of perception and how digital can unit us: a differenza del titolo, non è stato un intervento-mattone, anzi. Beau Lotto ci ha fornito degli esempi di come le neuroscienze, il behavioural targeting basato sui dati on e off line uniti al design ed alla progettazione UX possano portare dei benefici importanti a qualsiasi brand/prodotto. Devo dire che sono rimasto affascinato da come ha esposto questi concetto molto "tecnici" in modo semplice e alla portata di tutti. Uno dei migliori interventi della giornata.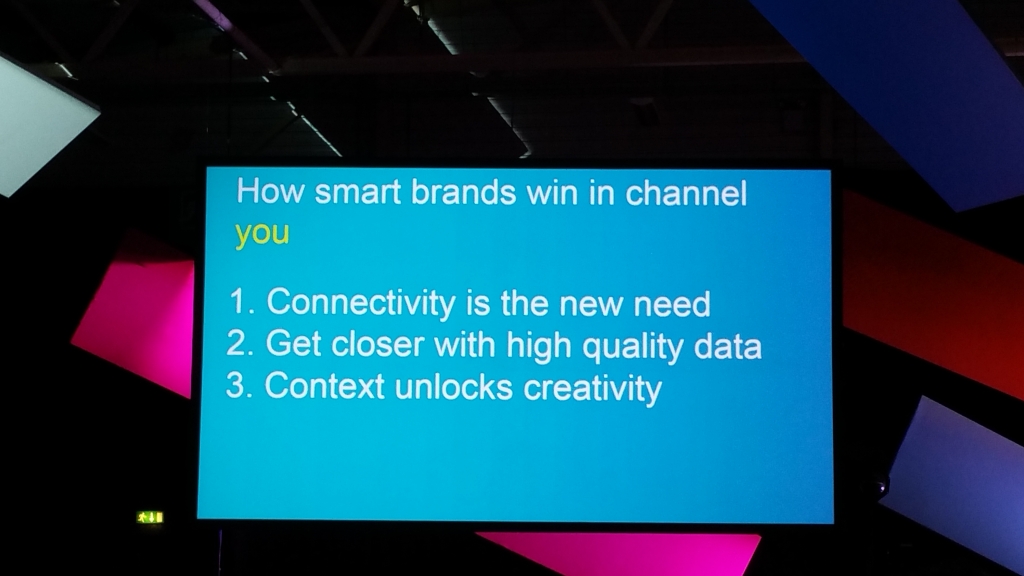 Marketing #FOMO in the digital age: 5 semplici regole per non aver utenti che si sentono nella sfera "fear of missed opportunity". A parlarne l'Head of Ad Tech di Facebook Dave Jakubowsky.
Pebble Keynote: ovvero come un terzo incomodo nella guerra degli smartwatch può inserirsi togliendo fette di mercato a Apple e Samsung.
The Future of Wearables: panel dedicato a come e quanto i wearables entreranno a far parte delle nostre vite. Molto interessante il punto di vista John Paul che afferma "il problema dei wearables non sono i wearables stessi, ma le persone che non sanno come utilizzarli". Si spera che sull'onda "icons" dell'Apple watch molti utenti si avvicinino a questi strumenti
Metrics that Matters: speech di Adam Berk, ceo di AdRoll, in cui ci illustra le varie tipologie di funnel funzionali interaziendali che possono portare le aziende a fare il salto di qualità sotto diversi punti di vista. In poche parole, i CROs devono parlare assolutamente con la funzione di Admin interna all'azienda e viceversa.
Oltre a questi speech oggi ho passato molto tempo tra le startup, per ascoltare le loro idee e modelli di business: sono rimasto piacevolmente stupito dalla quantità di ottime idee che sono state presentate e che mi hanno fatto testare live.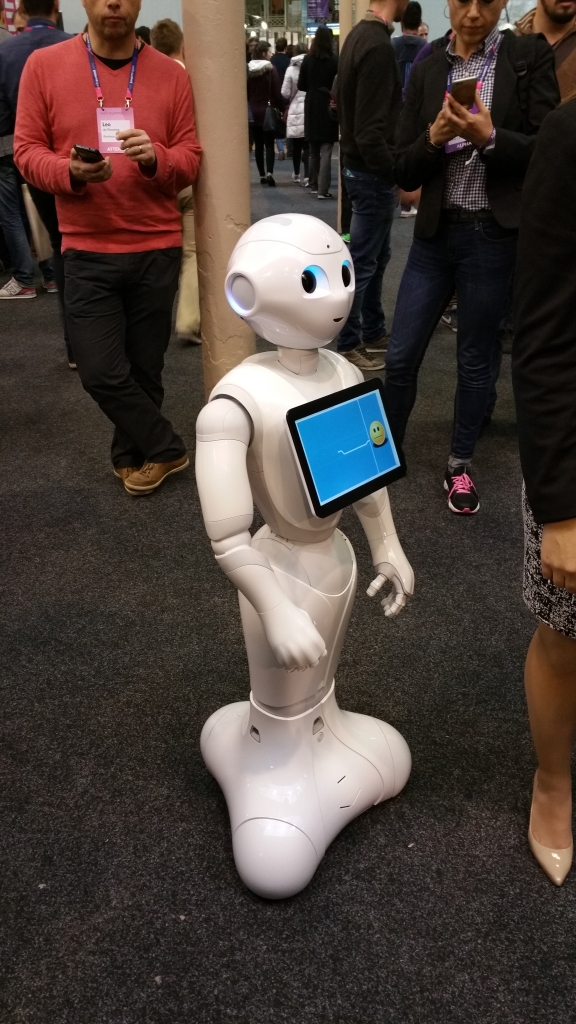 Tra una conferenza e l'altra, sono riuscito a trovare il tempo per passare nell'HQ di Facebook e Google: tutto un'altro modo di lavorare e ragionare… che spero dilaghi presto in Italia.
Ora terzo e ultimo giorno di Summit.. non vedo l'ora!