Visto l'ottimo successo conseguito lo scorso anno, non era sicuramente facile ripetersi anche in questa edizione ma devo dire con piacere che questa volta Massimo e Matteo hanno alzato nuovamente l'asticella.
WMExpo 2016 in Pillole
A conferma, basti pensare che dai 300 partecipanti del 2015 siamo passati agli oltre 400 di questa edizione. Numeri più che ragguardevoli, ripensando al fatto che l'evento è al solo secondo anno di vita. Novità di quest'anno: la doppia sala conference e case history.
La qualità dei relatori si è fatta sentire quindi, a partire da due moderatori che godono della mia stima incondizionata: Paolo Zanzottera e Francesco Tinti. Il primo si è occupato della sala conferenze, il secondo della sala case history.
A rompere il ghiaccio è stato proprio Paolo: nel suo intervento ha reso molto chiaro come la marketing automation non può e non deve sostituire la creatività delle risorse umane. Resterà celebre la frase: "Fare marketing digitale non è come fare il risotto col bimby".
Subito dopo è toccato al sottoscritto salire sul palco per parlare di "Connecting the dots" ovvero come poter raccogliere e utilizzare tutti i segnali che gli utenti ci lasciano durante la navigazione on e off line, integrarli e generare tutte le attività di CRO utili alla massimizzazione delle conversioni: il tutto corredato da casi pratici.
Di seguito alcuni tweet relativi al mio speech:
Subito dopo è stata la volta di Marco Ziero che ha parlato di Mobile Search e Mobile Seo e di come sono cambiati i modi di utilizzare i dispositivi e le navigazioni da parte degli utenti.
Dopo il break mi sono spostato nella sala case history dove Roberto Fumarola, CEO di Qaplà, ha parlato di come fare marketing e Ux nell'ultimo miglio dell'ecommerce: ovvero come sfruttare al massimo le mail che inviamo agli utenti! #Immenso come sempre!
Tornando nella sala conference, il simpaticissimo Ivano di Biasi, CEO di SeoZoom ha parlato di come cambia nel tempo lo studio delle keyword per i SEO: un intervento bellissimo!.
Dopo pranzo, sono tornato a vestire i panni del relatore e a parlare di "Think outside the box" nella sala case history, moderata da Francesco. In questo speech la tematica incentrata su come poter mettere in pratica le azioni di Conversion Rate Optimization utilizzando in maniera strategica gli strumenti come Google Tag Manager, Google Analytics, HotJar e così via. Rispetto al primo intervento sono andato un po' più sul tecnico ma senza sconfinare nell'incomprensibile … spero 🙂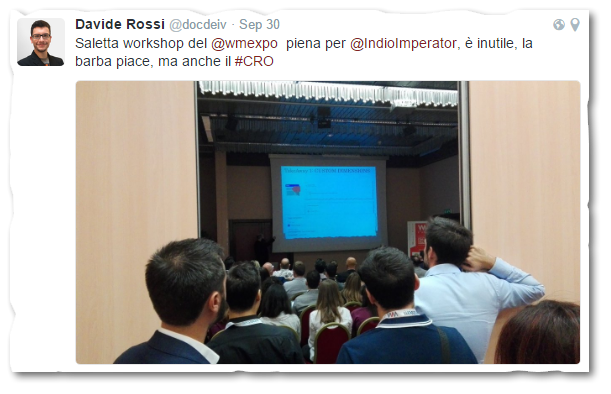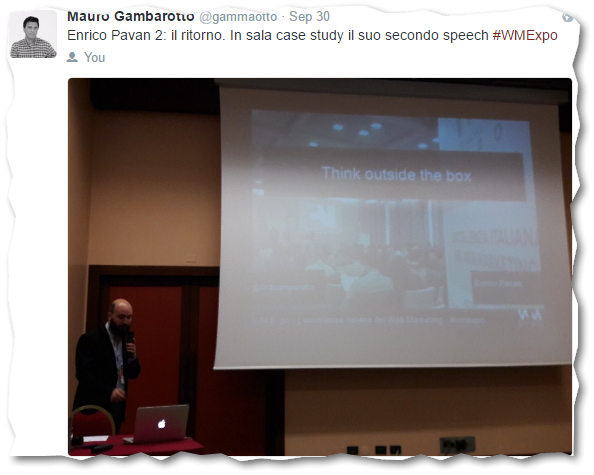 Oltre ai due speech… eccovi un'intervista fatta da Claudio Gagliardini:
Dopo questa performance, sul palco si sono succeduti personaggi del calibro di Chiara Ferraris, Giovanni Cappellotto, Piersante Paneghel (over the top!), Gian Caprini e Leonardo Saroni.
Menzione speciale al case history portato da Mauro Gambarotto assieme a Loreno Michielin, CEO e CoFounder di 32ViaDeiBirrai: hanno dimostrato che, senza dover investire budget molto importanti, è possibile portare a casa risultati molto soddisfacenti sia in termini di vendite che di immagine aziendale.. basta però farsi saper accompagnare dal consulente giusto!
Ovviamente la sera è stata l'occasione per il networking e per approfondimenti su dati, best practices, ecc… non ci si ferma mai in questo lavoro!
Il secondo giorno è ripreso parlando di Chat Bot con Dario Ciracì, Mail marketing con Paolo Errico e con attività necromantiche generate dal buon Andrea Scarpetta: un intervento spettacolare! Subito dopo la pausa è stata la volta di Branding con Carlotta Silvestrini, Email automation con Diego Allegra e la case history dedicata al Nurturing di Affilobook di Dario Vignali. Pausa prandiale e via sotto con Conversion Optimization di Rossella Cenini, Digital Strategy con Soffiato, Facebook ads con Sutto, Ecommerce marketing con Vit e Web Marketing senza barriere con Yurynets.
Sicuramente un evento fresco, a 360° e soprattutto FuffaFree che inizia ad avere un seguito importante: ancora un bravo a Max e Matteo e ci vediamo alla prossima edizione!
Se volete vedere cosa vi siete persi, eccovi il video dell'evento:
PS: per chi non ha potuto partecipare, a breve i video e le slide saranno acquistabili sul sito del WMExpo.