Ho aspettato un po' prima di scrivere questo articolo in quanto i primi rumors erano usciti il 1° aprile…. e come tutti sappiamo Google è sempre prodigo di scherzi durante l'April Fools' Day.
Google Analytics User Explorer Report: cos'è e come lo utilizzo?
In pratica questo nuovo report, in modalità beta e di cui non si conoscono i tempi di rollout su tutti gli account, permette di analizzare la navigazione del singolo utente esponendo il Client ID in un report.
Il Client ID, da definizione di Google Analytics:
the client ID field, a unique, randomly generated string that gets stored in the browsers cookies, so subsequent visits to the same site can be associated with the same user.

in questo caso il mio Client ID è 1998865648.1418667220, e lo trovo nel cid.
Interfaccia User Explorer
La prima interfaccia che viene mostrata è molto simile a quella dei report classici, in cui vengono evidenziate metriche come:
Sessioni
Tempo medio di sessione
Bounce rate
Revenue
Transazioni
Goal Conversion Rate
Se clicco sul singolo record si apre una nuova interfaccia in cui viene presentata una schermata divisa in due: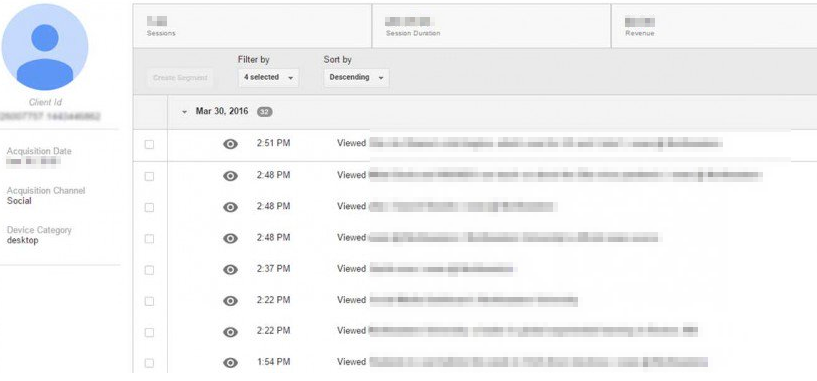 da una parte una sorta di "carta d'identità" del singolo utente in cui compaiono le informazioni relative a
Data di acquisizione dell'utente
Channel di acquisizione
Device di acquisizione
A destra è presente, invece, il percorso di navigazione compiuto dall'utente, comprensivo di acquisti, eventi scatenati e obiettivi generati.
Come utilizzo questo report?
L'utilizzo più importante di questo report sarà il merge tra le informazioni che ho a CRM/DB e quelle che mi fornisce Analytics, senza infrangere nessuna regola relativa alla privacy. Infatti in Google Analytics non so chi è l'utente 12345678.12345678 mentre se nel mio CRM/DB stocco anche questa informazione… posso isolarlo e andare a fare promozione/campagne sempre più mirate.
Pensate per esempio a quanto più semplice potrebbe essere anche l'attività di mail marketing quando possiedo le informazioni di navigazione dell'utente e del suo comportamento sul sito, unite a tutti i dati che ho a CRM/DB.
Non mi è chiaro, però, se il report espone il dato del Client ID anche se sto già tracciando il mio UserID tramite identificativo diverso dal Client ID stesso.
Sicuramente questo è un nuovo passo verso la marketing automation che al momento possono dare software come Hubspot e KissMetrics (per citarne due): mi aspetto che ora vengano aggiunte numerose altre features per rendere Google Analytics "LA Killer Application" della digital analytics